Fit Over Fifty is a fun, energizing senior fitness program that helps older adults take greater control of their health by encouraging physical activity. This fitness program is a low-impact chair exercise class that helps older adults and seniors live fit, active and independent lifestyles and see benefits of healthy aging.
Our Fit Over Fifty Classes are offered:
Monday 11:00am-12:00pm
Wednesday 11:00am-12:00pm
Senior Exercise Classes Near Florence, MS
It's no secret that exercise is good for you but did you know that as we age, it becomes increasingly important to maintain an active lifestyle? That's where Fitness Plex exercise classes for seniors come into play. These classes are designed specifically for older adults and include a mix of cardio and strength-training exercises that are safe for seniors to do. Our senior fitness classes are led by certified instructors so you can be sure that you're doing the exercises correctly and not putting yourself at risk for injury. Fit Over Fifty classes at Fitness Plex offer a range of benefits that go far beyond physical fitness. In addition to helping you stay physically active, fitness classes for seniors can also improve your emotional well-being, social life, independence, and overall quality of life.
How Does Exercise Affect Aging?
At any age, staying active can benefit you physically, emotionally, and socially; yet exercise is of vital importance for those over fifty. Why?
Senior Fitness Classes Keep You Physically Active & Healthy
It's no secret that as we age, we start to slow down physically. This can be due to several factors including a decrease in muscle mass, changes in our metabolism, and a decrease in bone density. But just because our bodies are changing doesn't mean we have to give up being active altogether. In fact, it's more important than ever to stay physically active as we age to maintain our independence and overall health.
Physical activity is essential for maintaining strength, balance, and coordination as we age. It can also help prevent falls – a leading cause of injuries in seniors. Strength-training exercises build bone density and reduce the risk of osteoporosis, while cardio exercises can help improve heart health. All types of exercise can help increase your energy levels, flexibility, and range of motion. Regular physical activity can also help reduce your risk of chronic diseases such as heart disease, stroke, and type 2 diabetes (to name a few), and increase your ability to recover quickly from an injury or illness.
Improve Your Mood with Fitness Programs for 50+
In addition to the physical benefits, senior workout classes can also improve your mental health and mood, help you manage stress and anxiety, and give you more energy. Regular exercise has been shown to reduce symptoms of anxiety and depression, and improve your mood by releasing endorphins, the "feel good" hormones, into your system. So if you've been feeling tired or down lately, or find yourself stressed out more often than not, a fitness class specifically for seniors could be just what the doctor ordered.
Senior Fitness Classes Can Help You Socialize
The best fitness programs for seniors provide great opportunities to socialize and meet new people who share your interest in staying active and healthy. Fitness Plex classes can relieve boredom by getting you out of the house and interacting with other people regularly. As we age, it becomes increasingly easy to become isolated and withdrawn from the world around us. Whether it's due to retirement, the death of a loved one, or simply not having as many friends and family members around, seniors can often find themselves feeling lonely. In addition to getting some exercise through a workout program, you'll also have the chance to meet new people and make some friends along the way. Fitness classes can become an important part of your life—something to look forward to each week where you can socialize, have fun, and stay healthy at the same time.
Fitness Classes for Seniors Near Me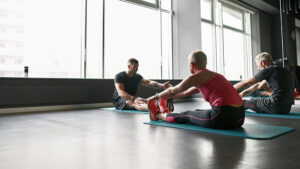 What's the best exercise program for seniors? Fit Over Fifty classes at Fitness Plex, of course! If you're looking for a way to stay physically active, increase your health and muscle mass, relieve stress, and socialize all at the same time, consider signing up for our senior fitness program! Even if you have never worked out a day in your life, it's never too late to start. You'll reap all the benefits of the top anti-aging exercises and learn the types of exercise that seniors need to stay healthy. Get ready to get up and move! Join a fitness class at Fitness Plex today and enjoy feeling young and vibrant at any age!