Since 1996, Florence Rehabilitation Center in Fitness Plex has provided excellent patient care and hospitality to our valued patients. Our staff works with care and skill to meet your goals and those of your doctor in working toward healthy and effective rehabilitation.
We begin with an individualized plan to meet your unique needs and get you back to optimal physical functioning for chronic pain, an injury or illness, accident, or any other rehabilitation need you may encounter. This may be based upon your doctor's physical therapy prescription or a physical complaint you bring to us to remedy. Our physical therapy services are extensive and meet just about any rehabilitation or physical therapy required, including:
Learn more about our physical therapy treatments with a click!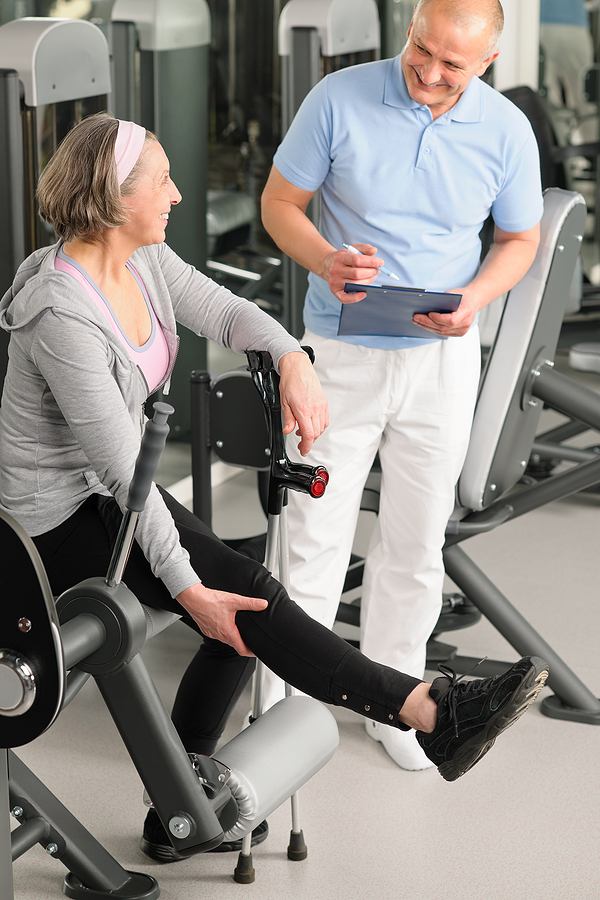 Best Outpatient Rehabilitation Near Me
We provide physical therapy services for the following rehabilitation:
Complete Orthopedic and Neurological Rehabilitation
Sports Injury Rehabilitation and Conditioning
Visit our rehabilitation page to view these services in more detail!
Physical Therapy for Arthritis
Did you know that arthritis is the leading cause of disability in the U.S. and affects more than 50 million American adults? If you're one of those, we're here to help! Physical therapy is one of the best treatments for arthritis pain. How does physical therapy help arthritis pain? Outpatient PT for arthritis improves your range of motion and muscle strength, targets the source of joint pain, and uses special treatments that address your pain. All of these reduce the symptoms of arthritis!
Best Physical Therapy Centers for Pain Syndromes
If you're one of the 116 million Americans that deal with chronic pain syndrome, then it's time to get help! Top rated physical therapists at Florence Rehabilitation Center can reduce your pain symptoms and restore as much activity as possible.
Aquatic Physical Therapy Near Florence MS
Aquatic physical therapy is the practice of physical therapy in water. Fitness Plex offers aquatic therapy for specific diagnoses and rehabilitation such as sports injuries, non-weight bearing walking rehab, acute back pain, and more. The benefit of aquatic physical therapy is that you can build muscle and work on balance, flexibility, and mobility, all in a low impact, gentle environment that is necessary for a variety of rehabilitations.
HIVAMAT Physical Therapy Near Me
What is HIVAMAT? HIVAMAT stands for Histological Variable Manual Technique and uses deep oscillation to send electrostatic waves through your body and muscles. This kneading process is unique in its ability to gently and deeply apply therapeutic healing within your muscles, tissues, blood, and lymph vessels.
HIVAMAT is clinically proven as effective for pre and post operative therapy, pain syndromes, sports injury rehabilitation, workmans comp injuries, and more! The benefits of HIVAMAT for rehabilitation purposes include edema-reducing effects, improved scar quality, reducing inflammation and pain, stimulation of wound healing, increasing mobility, and musculoskeletal injury recovery. HIVAMAT physical therapy is also helpful for pinched nerves, tendonitis, carpal tunnel syndrome, migraines, plantar fasciitis, sprains, muscle tension, numbness, and more.
Balance Testing
There are a variety of balance tests and rehabilitation techniques that we apply here at Florence Rehabilitation Center. These are effective, proven methods of testing for balance issues and using interventions to resolve them. Depending on your physical requirements, we may conduct balancing testing such as the BERG Balance Scale, Tinetti Balance Assessment, Dynamic Gait Index, TIme Up and Go, or Function in Sitting Test. Once we have determined your particular need, we may work on your vision, sensation, proprioception, vestibular dysfunctions, range of motion, and strength building.
Pre-Employment Screenings
Many new employers require a physical to ensure you're physically and mentally able to perform the job for which you're being hired. Rather than a costly doctor's appointment, you can get these pre-employment screening physicals here at the Florence Rehabilitation Center, both for new jobs or to provide clearance for you to return to work after a work-related injury. These tests provide you with an overall health status report for your employer, indicating your weight, pulse, blood pressure, temperature and vital signs. We may also check your vision, hearing, respiratory and cardiovascular health, range of motion and reflexes, and inquire about medications. If you're receiving assessment for a workers comp injury, specific tests will be conducted to assess your healing related to your injury.
Low Cost Physical Therapy Near Me
Our primary goal is to get you the rehabilitation you need – no matter what! That means that we accept a wide range of payment options and insurance providers for outpatient physical therapy. Even if we're out of network, we will work to get you pre-approved with as little out-of-pocket expense as possible. Our top rated physical therapy facility near Florence, MS provides you a comprehensive plan for physical therapy. Our skilled, licensed physical therapists work to get you back on track as quickly as possible!
Payment Options:
Medicare Physical Therapy
Medicaid Outpatient Physical Therapy
Worker's Comp
Automobile Insurance
Private Health Insurance Plans
United Healthcare Plans
Magnolia Health
Blue Cross Blue Shield
Humana
Private pay Physical Therapy
That's right! All these payment options are accepted at Florence Rehab Center at Fitness Plex! We know how hard it is to find an outpatient rehabilitation center that takes a variety of insurance. So we've made it easy! If you have been searching for "physical therapists who take workers compensation near me" or "physical therapists who accept Medicare" your search is over! You're in the best of hands when you choose us because we provide some of the best physical therapy near Florence MS, while keeping affordability and payment options a priority.