Welcome to the Fitness Plex fun in the sun pool experience! Whether you're looking to swim laps, take swim lessons, play water sports, get your expecise on with water aerobics, or have a blast at a swim party, the Fitness Plex pools are available! Our facility offers two pools for your aquatic enjoyment: an indoor pool which is saltwater and heated, and an outdoor pool.
When you join Fitness Plex, you won't need swimming pool memberships  – you have access to our entire facility – pools included – with our general membership plan. Or you can just come for the day and enjoy a little Mississippi "staycation" lounging by the pool. You may even decide to challenge yourself with a little water aerobics class! The options are limitless!

Outdoor & Indoor Pools Near Me
Fitness Plex has all the seasons covered so you can enjoy both our pools year-round. Have you been searching for gyms with indoor swimming pools near me so you don't have to give up swimming for the winter? Stay out of the cold and come visit our indoor heated pool that has all-natural saltwater treatment. If you want to get a break from the heat and sun during the summer, our indoor pool is the perfect way to have full cover while still enjoying your swim.
Our gym outdoor pool is always a favorite, providing the perfect summer fun day filled with exercise and excitement! From swim lessons to water aerobics and everything in between, you'll have a blast at our outdoor pool all year long.
Swim Lessons Near Florence, MS
Fitness Plex offers swim lessons for the wonderful community surrounding Florence and beyond! You have the flexibility to select a plan that works best for you, as we offer both group swim lessons and individual swim lessons. Our swim lessons are all taught by licensed, experienced swim instructors who provide 30 minute swim lessons designed to keep you or your child engaged and learning the entire time!
Swim lesson requirements: We kindly ask parents to stay off the pool deck during lessons.
Lessons will only be made up for bad weather. Lessons cannot be made up for vacations, sports, birthday parties, etc.
Water Aerobics Near Me
Do you want the perfect combination of cardio conditioning and strength conditioning without the impact on your joints? Water aerobic classes at Fitness Plex are the perfect solution! These energetic classes merge natural water resistance with an upbeat pace to give you an unbelievable, low-impact workout. Plus, you'll get the best of both worlds: cool, refreshing water during the hot summer and a soothing warm bath temperature for the winter at our indoor and outdoor pools.
Aquatic Therapy & Water Therapy
If you're suffering from chronic pain or an injury, whether it's a work-related injury, sports injury, accident, or any other type, you may benefit from water therapy. Also known as aquatic rehab, our qualified and licensed Physical Therapists help you heal with our top-rated water therapy program. Visit our Physical Therapy page for more information. This may be just the relief you've been looking for!
Staycations
Don't have enough time for a full-fledged trip away? That's okay! Simply visit Fitness Plex and give yourself the gift of a Staycation right here in your own backyard! With a one gym day pass, you'll have access to our entire facility. The best part is that we have something for everyone in the family! Enjoy getting a golden tan, luxuriating in our steam saunas, take a refreshing swim, or get your groove on in a fun workout class, all while your children have a blast in our daycare or at an inflatable party! It's truly a vacation spot that everyone in the family will enjoy.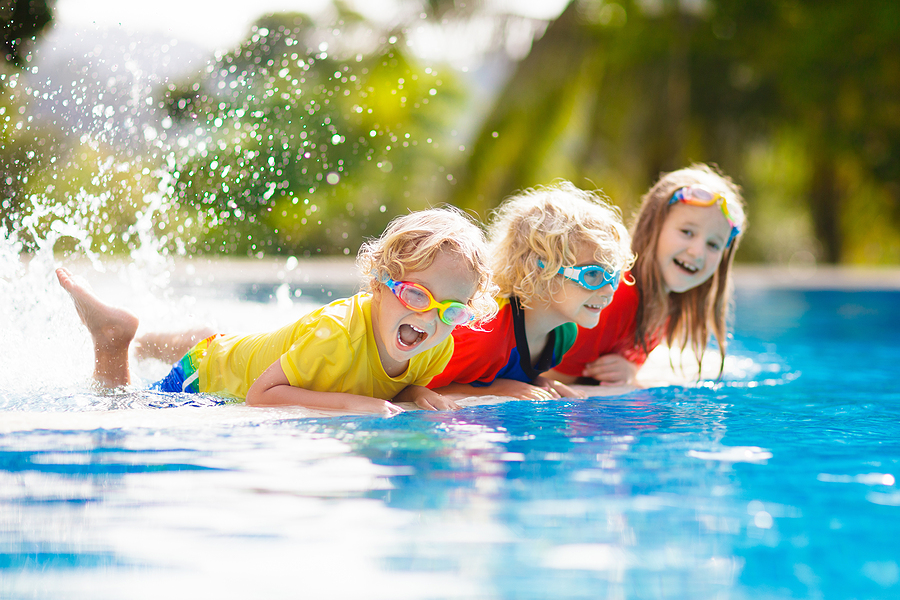 Pool Parties & Inflatable Parties Near Me
Give your child the swim birthday party of a lifetime! We offer swim parties for any occasion and have a variety of packages to suit your unique needs. Enjoy a swim party package filled with water adventures and a party room for refreshments or have a blast in our Fun Zone that's packed with inflatable fun! The cherry on top is the Combo Party, where you get both an inflatable party AND a swim party! 
Swimming Party Package:
2 hours of swimming time with a lifeguard
Accomodates 25 children or less
Pool Party Package:
2 hours of swim time
Access to the party room
$225
Combo Party Package:
45 min in the Fun Zone
45 min Swim Party
Party room for the remaining time
$245