Taekwondo is one of the most systematic and scientific Korean traditional martial arts that teaches more than physical fighting skills.  It is a discipline that shows ways of enhancing our spirit and life through training our body and mind. The practice of Taekwondo combines combat and self-defense techniques with sport and exercise, making it a fantastic option for any age!
Taught by 5th Degree Black Belt Master Donald McDonald.
Class Schedule:
Monday & Thursday
6:30-7:30pm Beginner class (white, yellow & orange belts)
7:30-8:30pm Advanced class (green belt & above)
*Call or come by for prices.
Taekwondo Classes Florence, MS
Looking for a fun and interactive way to stay healthy? Taekwondo classes at Fitness Plex are the perfect solution! Our Taekwondo program is taught by experienced Black Belt Master instructors who make the learning process fun and interactive. In addition to being a great workout and self-defense technique, Taekwondo has far-reaching emotional and social benefits. As a result, it is an excellent way to stay healthy both physically and emotionally. Plus, Taekwondo is just plain fun! You'll never get bored in our classes, and you'll always have a chance to meet new people and make new friends. With classes for every age and level from beginner to advanced, Fitness Plex offers Taekwondo workout classes for anyone interested in excelling in this popular martial art.
What is Taekwondo?
Taekwondo is a Korean martial art form that incorporates the physical martial art forms of kicking and fighting techniques with the guiding principles of self-control, communication, and conflict resolution. The practice also emphasizes mental resilience, stamina, self-respect, inner balance, and confidence. The goal of the practice is to make you stronger, more flexible, and healthier overall through this disciplined and focused martial art.
Benefits of Taekwondo for Kids, Teens, Adults
At Fitness Plex, we offer Taekwondo classes for people of all ages. Benefits of Taekwondo classes include improved emotional well-being, social skills, and physical health. How does joining the Taekwondo program at Fitness Plex benefit you or your child?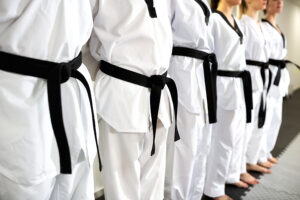 Emotional Benefits of Taekwondo
Taekwondo is a great way to relieve stress, improve your mood, and increase focus and concentration. Endorphins are released during exercise, leading to mood-boosting effects. To succeed in Taekwondo, you need to be able to focus your mind and body on the task at hand. This takes your mind off your worries or stressors which can create feelings of calm and peace. Focusing skills can transfer over into other areas of your life, such as work or school. If you've been struggling with paying attention or staying on task, give Taekwondo a try! You might be surprised at how much it helps.
Another benefit of this martial arts practice is an increase in confidence and self-esteem. After learning how to defend yourself and gaining a better understanding of your physical capabilities, you can feel more confident in your everyday life. Increased confidence is a valuable benefit that can improve your life in many ways.
Socializing with Taekwondo
You're bound to enjoy the fun and supportive community that you'll find in our Taekwondo classes. You will be working together with other students in class to learn techniques and spar. This can help you build relationships and improve your communication skills. Our classes are designed for people of all ages and abilities, so everyone feels welcome and able. If you're looking for a fun way to meet new people and get involved in your community, this is a great way to do so!
Health & Physical Benefits of Taekwondo
Of course, one of the main benefits of Taekwondo is improved physical health and increased activity. It is a full-body workout that builds strength, stamina, flexibility, and cardiovascular endurance. Practicing Taekwondo forms improves coordination and balance. In addition, it is a low-impact form of exercise, which means it is easy on your joints.
Best Taekwondo Near Me
Taekwondo training at Fitness Plex can benefit you in many ways at any age. If you are looking for a way to improve your emotional well-being, social skills, and physical health, Taekwondo may be the perfect activity for you. We can help you reach your goals and take your practice to the next level. Try a free taekwondo class today at Fitness Plex, we know you'll love every active second of it!