Living with arthritis can be challenging, as it imposes limitations on your daily activities and affects your overall quality of life. While there is no cure for arthritis, there are various treatments available that can help manage its symptoms and bring you much-deserved relief! How? Physical therapy treatment for arthritis has been found to help manage the symptoms of arthritis effectively.
Physical therapy is a safe and non-invasive way to manage arthritis symptoms through individualized exercises and techniques to help improve joint mobility, reduce pain, and enhance physical function. And if you're looking for the best clinic near Jackson, MS to get physical therapy for arthritis, Florence Rehabilitation Center can help you get all the help you need to relieve your symptoms!
Does Arthritis Get Better With Physical Therapy?
Depending on your specific condition and where arthritis affects you most, you may be wondering, does physical therapy help arthritis in knees? Can physical therapy help arthritis in lower back? Is physical therapy good for osteoarthritis? Is there physical therapy for arthritis in hands?
The long and short answer is a resounding YES! While the actual arthritis itself is not affected greatly by physical therapy, the associated pain and symptoms of arthritis can be reduced significantly by physical therapy treatment. Seeing a physical therapist for arthritis improves your life and function overall. Physical therapy can help reduce arthritis pain and discomfort by strengthening affected muscles and joints and decreasing inflammation. By engaging in physical therapy activities, your flexibility and functional mobility improve, making it easier and less painful to perform daily activities such as walking, standing, and bending.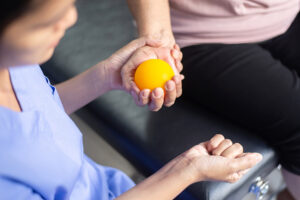 What Type Of Physical Therapy Is Good For Arthritis?
The most common physical therapy techniques for arthritis include a variety of exercises, manual therapy, hot and cold therapy, and electrical stimulation. The physical therapy methods used are designed to build muscular and bone strength, coordination, and flexibility. Hot and cold therapy act to reduce inflammation and pain. Electrical stimulation can help restore tissues and provide deep relief. Mental health support for depression and anxiety often associated with arthritis are also available for those who would benefit from it.
What to Expect During Physical Therapy Sessions
During the first session at Florence Rehabilitation Center, your physical therapist will conduct a thorough exam to assess your symptoms, range of motion, strength, and endurance. They will also talk with you to discover what you're seeking from physical therapy treatment. From the information gathered, a personalized treatment program will be designed based on your goals and needs. You'll work closely with your physical therapist specializing in arthritis to execute the plan and exercises on a regular basis and track your progress. Together, we can adjust the treatment plan as necessary to ensure you are finding the relief and improvements you require.
Physical Therapy For Arthritis Near Me
At Florence Rehabilitation Center, we provide one-on-one attention, customized treatment plans for arthritis management, and state-of-the-art equipment to help patients achieve optimal results. Our physical therapists for arthritis are highly skilled and experienced in treating arthritis symptoms, and we offer a comfortable and friendly environment to help patients feel at ease. We also provide follow-up care and support to help all our patients maintain progress and prevent future flare-ups. If this sounds like something you would benefit from, give us a call today! Our skilled physical therapists are standing by, ready to help you live your fullest pain-free life!